Allergens and Glutens
Thank you for your interest in dining at our Pepe's Mexican Restaurants. I hope that I can provide you with the information that you need so that you can enjoy the food at Pepe's. I am attaching a list of products with allergens and gluten that will help you make the correct menu choices at Pepe's.
Please remember that depending on how sensitive you are, there are a good many hidden sources of gluten such as modified starch, hydrolyzed protein, extracts, flavorings, preservatives, etc. Incidental contamination can occur during food preparation from the grills, inserts, utensils, cutting boards, and frying oils. Also, Pepes Incorporated cannot assume any responsibilty for alterations or modifications to products at the restaurant level.
When ordering, the simpler is better. Avoid flour tortillas and order broiled meats. Again, thank you for your interest.
Please bear in mind that product recipes change, modifcations occur and kitchen circumstances dictate changes from time to time, depending on supply, season, pricing, manpower, etc. For this reason, information that may be accurate today may not be true tomorrow. For this and for many other reasons, you should consume any seemingly gluten-free food item with caution. We cannot assume liabilities for any inaccuracies that may occur.
If you need futher allergen information, please contact us.
* Please note that some menu items are NOT available at all Pepe's locations.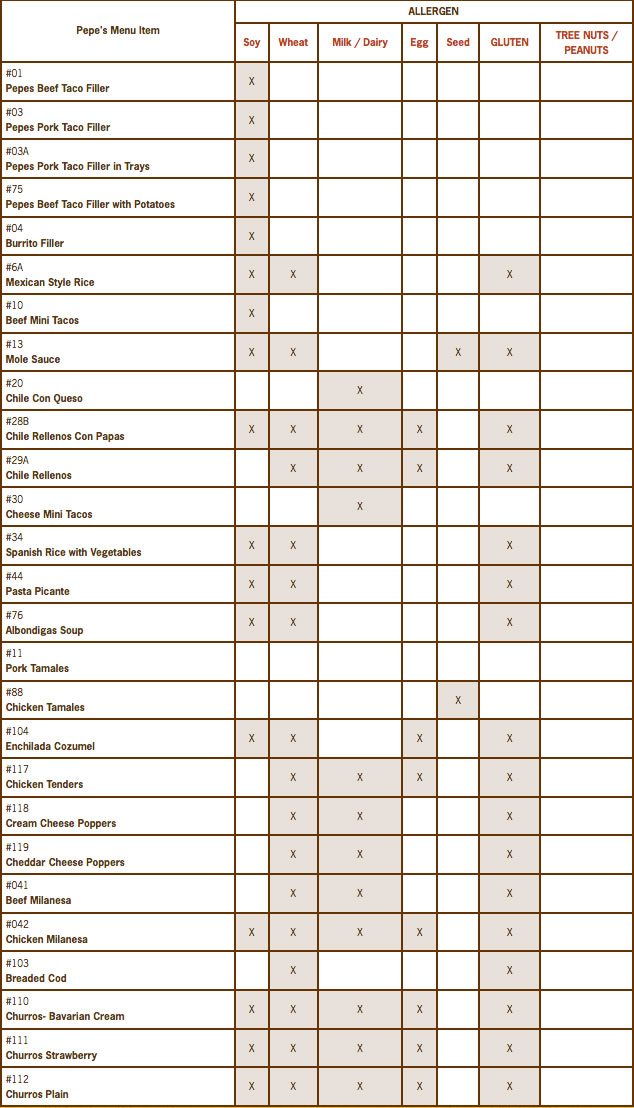 Pepe's Menu Item
ALLERGEN
Soy
Wheat
Milk / Dairy
Egg
Seed
GLUTEN
TREE NUTS /
PEANUTS
#01
Pepes Beef Taco Filler
X
#03
Pepes Pork Taco Filler
X
#03A
Pepes Pork Taco Filler in Trays
X
#75
Pepes Beef Taco Filler with Potatoes
X
#04
Burrito Filler
X
#6A
Mexican Style Rice
X
X
X
#10
Beef Mini Tacos
X
#13
Mole Sauce
X
X
X
X
#20
Chile Con Queso
X
#28B
Chile Rellenos Con Papas
X
X
X
X
X
#29A
Chile Rellenos
X
X
X
X
#30
Cheese Mini Tacos
X
#34
Spanish Rice with Vegetables
X
X
X
#44
Pasta Picante
X
X
X
#76
Albondigas Soup
X
X
X
#11
Pork Tamales
#88
Chicken Tamales
X
#104
Enchilada Cozumel
X
X
X
X
#117
Chicken Tenders
X
X
X
X
#118
Cream Cheese Poppers
X
X
X
#119
Cheddar Cheese Poppers
X
X
X
#041
Beef Milanesa
X
X
X
#042
Chicken Milanesa
X
X
X
X
X
#103
Breaded Cod
X
X
#110
Churros- Bavarian Cream
X
X
X
X
X
#111
Churros Strawberry
X
X
X
X
X
#112
Churros Plain
X
X
X
X
X